SCHOOL COUNSELING DEPARTMENT
Phone: 978-897-8891
Fax: 978-897-6089
Counselors are available Monday through Friday during the school day. If you need to meet outside of regular hours, please contact us.
Nicole Fernald, M.Ed., C.A.G.S. (she/her)
Certified School Guidance Counselor
Caseload: Last names Lb-Z (L-Z for class of 2025 and beyond)
Email: nfernald@maynard.k12.ma.us
Phone: 978-897-8891 x3209
Office: B109
Dana MacPhee, M.A., C.A.G.S. (she/her)
Certified School Guidance Counselor
Certified School Adjustment Counselor
Caseload: Specific students, last names A-Z
Email: dmacphee@maynard.k12.ma.us
Phone: 978-897-8891 x3105
Office: A203
Amy Petroskey, M.Ed., Ed.S. (she/her)
Certified School Guidance Counselor
Caseload: Last names A-La (A-K for class of 2025 and beyond)
Email: apetroskey@maynard.k12.ma.us
Phone: 978-897-8891 x3210
Office: B110
Olivia Hull, M.A. (she/her)
School Adjustment Counselor
Email: ohull@maynard.k12.ma.us
Phone: 978-897-8891 x1417
Office: A202
Counseling Department Newsletters
Work Permits - Work permit applications are available in the main office. Completed applications can be turned in at the main office for official work permits.
Official Transcripts for Alumni - Official transcripts can be requested at the main office, by calling 978-897-8891, or by emailing Gail Lucas at glucas@maynard.k12.ma.us.
NEACAC Fall College Fairs
A number of local institutions will be holding NEACAC College Fairs this fall. All events are free to attend. Seniors are allowed three excused absences for college visits and a college fair can count. Please let your school counselor know if you plan to attend the fair at Salem State so your absence can be excused.
Worcester State University
Date: Sunday, October 1
Time: 11am-1pm
Location: Wellness Center, Competition Gymnasium
Colleges Attending: Latest list here
Salem State University
Date: Thursday, October 5
Time: 9am-12pm
Location: O'Keefe Center Complex
Colleges Attending: Latest list here
A list of all fairs in New England can be found here. These events are great opportunities to learn more about a variety colleges and to ask questions of admissions representatives.
Navigating the College Search for Students With Learning Differences' Workshop
Navigating the College Search for Students With Learning Differences is an in-person, on-campus event being held by Curry College.
This is workshop for high school students and families beginning the college admission process who are seeking support for learning differences at the college level.
Faculty and staff from Curry's world-renowned Program for Advancement of Learning (PAL) will present critical information about your search process and pursuing colleges with the proper academic support to help you succeed. Even if students are not interested in Curry College or PAL, this workshop will present information that will be helpful in the admissions process for all colleges.
Date: Thursday, September 28
Time: 6-7:30pm
Location: Curry College, Milton, MA
Students/families may register for the workshop here.
Mental Health Workshop for Portuguese-Speaking Families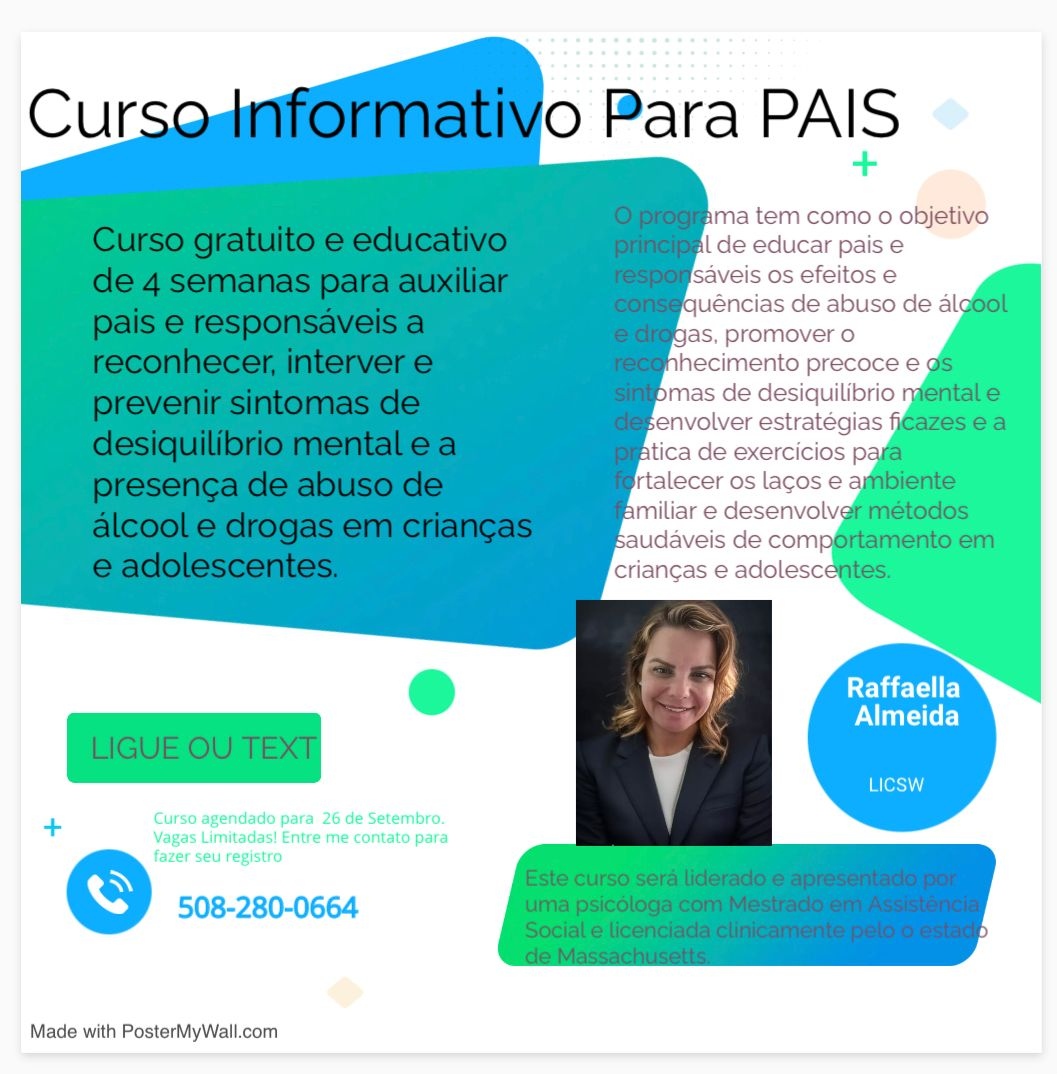 A free, 4-week, online workshop on child and adolescent mental health in Portuguese for Portuguese-speaking families will begin on September 26. Please see the flyer above and contact Raffaella Almeida, LICSW at 508-280-0664 for more information and for the the link to join.
In the spring, school counselors presented to families and students in the class of 2024, and met with most students to begin the discussion around post-high school planning .
You can view the slides presented to families here and a recording of the full presentation is available here. Please also feel free to refer to the Postsecondary Planning Timeline and Resources page for more information. There are links to additional documents on the Class of 2024 Google Classroom.
College Representatives Visit MHS

Admissions representatives from colleges and universities will be visiting MHS this fall. All visits will take place in the career center (outside of Ms. Fernald and Mrs. Petroskey's offices).
The schedule above is for September. The entire fall schedule can be found here and is also available on the Class of 2024 and Class of 2025 Google Classrooms.
In order to attend a visit, students need to sign up in the career center at least 2 days in advance. Students must alert their teacher that they will miss class and they are responsible for any missing work.
NACAC Virtual College Fairs

The National Association for College Admission Counseling (NACAC) is holding 3 free virtual college fairs this fall. To see the schools planning to attend and for registration, please click here.
Financial Aid
The Free Application for Federal Student Aid (FAFSA), which all colleges require for financial aid (and sometimes merit aid, as well) is being revised and simplified for families. Instead of October, when it is usually available, it will be available in December.
Massachusetts Educational Financing Authority (MEFA) Workshops
Financial Aid 101: This presentation provides an overview of the entire financial aid process, as well as topics such as financial aid applications and eligibility, types of financial aid, and how colleges determine the details of financial aid offers. It also highlights key features of the new FAFSA debuting in December.

These webinars will be held weekly from October 5th through early December both during the day and at night. Families can view webinar dates and times and register at mefa.org/events/financial-aid-101. A Spanish option is available here, and webinars will be recorded and posted online for families who are unable to attend a live event.
What to Know about the CSS Profile: This presentation will introduce the nuts and bolts of the CSS Profile, a financial aid application required by approximately 250 colleges, universities, and scholarship agencies across the country. This presentation will be held on Thursday, September 28th from 12-1pm. Sign up here.
Students with 504s or IEPs

The process to receive accommodations at college is not the same as in high school. Students need to disclose their disability and request accommodations through the office of disability services (sometimes also called accessibility services). For more information about the transition to college with a disability, check out these resources.
**NOTE: Many colleges and universities that went test optional during the pandemic have made the decision to stay that way. More and more students make the decision not to take and/or submit SAT/ACT scores to colleges. The dates below are for informational purposes, but not all students need to be taking these tests.
This fall, the PSAT/NMSQT test will be digital. MHS will hold the PSAT on Wednesday, October 18th for all juniors and interested sophomores. The test will begin at 7:45am and will end around lunch time.
All juniors are able to take the test free of charge. Sophomores can opt-in for $20 and spots are first come, first serve. Please sign up here by Friday, September 29, 2023 and bring your money to the main office. If the $20 fee poses an issue, please contact your school counselor.
**Note: Students must be signed into their school accounts to access the sign-up form above.
Register at www.collegeboard.org
- October 7 - registration deadline is 9/8
- November 4 - registration deadline is 10/6
- December 2 - registration deadline is 11/3
Please reach out to your counselor if you need a fee waiver.
**Free SAT prep and practice tests are available through your College Board account in collaboration with Khan Academy.
Register at www.actstudent.org
- October 28 - registration deadline is 9/22
- December 9 - registration deadline is 10/3
Please reach out to your counselor if you need a fee waiver.
**Free ACT prep and practice tests are available through the ACT website.
HOTLINES

Advocates Mobile Crisis: 800-540-5806

MA Behavioral Health Help Line: 833-773-2445

National Suicide Prevention Lifeline: 988

Crisis Text Line: Text ACT to 741741

theTrevorProject.org 1-866-488-7386

Trans Lifeline 1-877-565-8860

Mental Health Resources List (includes local supports, as well as supports for specific concerns, such as grief, eating disorders, substance use, and family supports)